Sarah's Vintage & Estate Jewelry Inc. is a jewelry store in Williamsville, New York, that offers the best and largest selection of estate jewelry in the western New York area. Our collections include one-of-a-kind antique jewelry from the Georgian Era, Victorian Era, 1950s, 1960s, and 1970s, as well as Art Nouveau, Art Deco, and Retro Pieces.
At Sarah's Vintage & Estate Jewelry, we offer an ever-changing selection of vintage and estate jewelry, focusing on pieces from 1880-1980. While you are here, be sure to see our collection of vintage Art Deco Diamond rings and other original period pieces. We choose only the best for our customers, with special attention paid to condition and quality. Our only goal is to please and delight our customers, and with this desire, everything falls into place. We are merely caretakers for a short time of these lovely pieces and are honored to be the connection between the past and your "present." We love our jewelry, and it shows.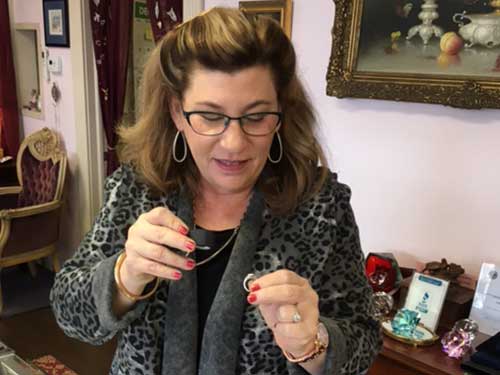 Buying a piece of jewelry from Sarah's Vintage & Estate Jewelry Inc. is a remarkably personalized experience. We are extremely discriminating in the selection process of our pieces. Each piece is hand-chosen and personally inspected by Sarah, a Graduate Gemologist with over 25 years of appraising experience.
Visit our showroom and discover the Sarah's Vintage & Estate Jewelry Inc. difference.
Contact us today to learn more about our company and the current inventory of beautiful estate jewelry in our jewelry store. For Your Convenience, We Accept American Express®, Debit Cards, Discover®, MasterCard®, Personal Checks, & Visa®
We also have gift cards!!
Please Press the picture to see our ratings on BBB and why we are so great!!
Check out what our customers have said about our shop!!!!!!
Certifications & Affiliations: Williamsville Business Association | Gemological Institute of America Alumnus
National Association of Jewelry Appraisers